Meet Nicaragua Coffee Producer Luis Joaquin Lovo
We first met Joaqui and his wife Marielo in 2013 and first purchased his coffee in 2016.
We have always established pricing directly with Joaquin and have paid well above market price all these years.
We have taken 11 different Carabello staff members to visit Luis' farms the past 10 years.
STORY OF HOW WE MET JOAQUIN
In 2013, Carabello Coffee took its first origin trip to Nicaragua with our friends at Atlas Coffee. We had an established relationship with Luis Alberto Balladarez, were committed to purchasing his coffee, and were looking forward to connecting with him. We also planned to meet several other coffee producers on this trip, Luis Joaquin Lovo being among them.
When we met the Lovo family, we were introduced to Luis Joaquin, his wife Marielo, and his brother David. They gave us a tour of all three of their farms: Santa Theresa, La Pradera, and Bella Aurora. These farms were beautiful, slowly rising in elevation and seamlessly overlapping from one to the next. At their ranch they fed us a bounty and put on quite the impressive demonstration with their horses. We had a fantastic time! Yet, because we were so committed to our relationship with Luis Balladarez, we were unable to purchase coffee from the Lovos at that time.
Over the next couple of years we made several more trips down to Nicaragua with Atlas coffee. On one of these trips, we connected with the Lovo family again and learned about them founding Fundenuse, a micro-financing non-profit that provides finances as well as accountability for entrepreneurs and farmers. Fundenose is now one of the largest micro-loan programs in the Western Hemispheret. We were so impacted by their heart to provide this kind of program for the people of Nicaragua that we knew we had to buy their coffee somehow!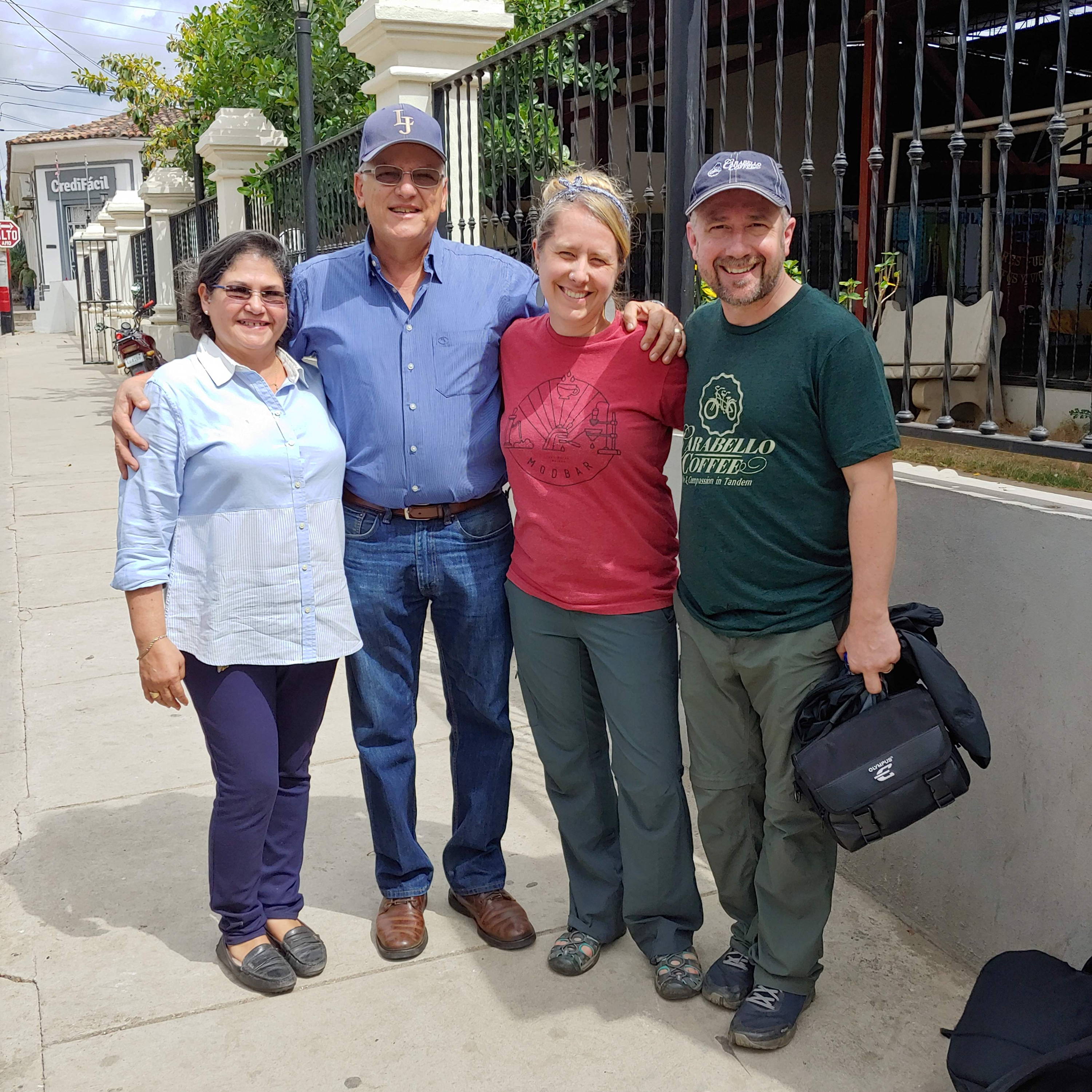 On this trip we had tasted several of the Lovos coffees and were impressed by many. We decided to rework the components in our Tandem Espresso blend and make their coffee play a prominent role in it. We were all in!
In 2016 we made our first coffee purchase from the Lovos: 40 bags of their coffee. As we continued purchasing coffee for our Tandem Espresso, we also purchased and featured several of the Lovo's micro-lots along the way. Now their coffee is a staple on our shelves and we couldn't be more pleased!
During the 1980's and 1990's there was a civil war taking place in Nicaragua. The strife within the country led Luis Joaquin and Marielo to immigrate to the United States. They landed in Florida and started a new life. Luis gained an engineering degree from the University of Florida and after that started a career in construction. While in Florida, Luis Joaquin and Marielo also had their children who still live in the United States today.
When the war ended, Luis Joaquin's father urged him to return to Nicaragua. He needed help getting the family farms back on track and the communities desperately needed help rebuilding. Joaquin and Marielo agreed to return and aid in this reconstruction effort. Luis Joaquin has since taken over the management of all three farms from his father, who is now over 100 years old. The Lovos have a huge heart for the country of Nicaragua and its people and coffee is the means in which they care for their country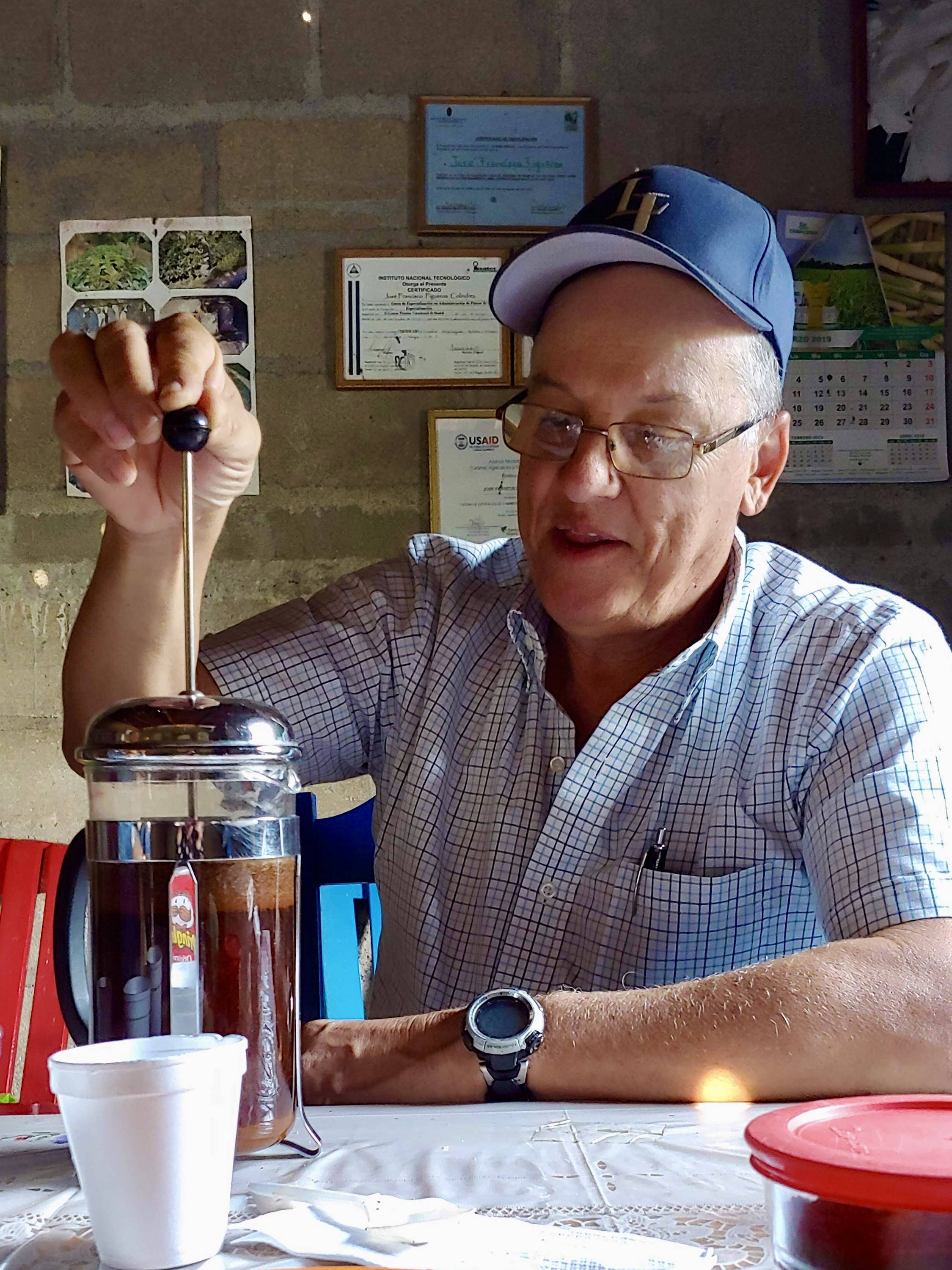 With a background in engineering, Luis has applied this structured way of thinking directly toward farming and processing his coffee. In everything he does there is a measured and scientific approach. For example, he keeps meticulous records of rainfall, temperature, and other weather details. Producing coffee in this way has gained global notoriety in well known competitions such as the Cup of Excellence.