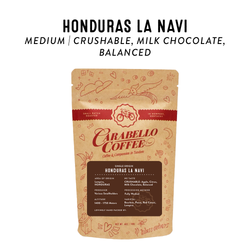 Carabello Coffee
4oz Honduras La Navi - HELP
**Our Newest Coffee - Balanced & Crushable**
When done well, Honduran coffee can be some of the most enjoyable coffee on the planet.  La Navi delivers a balanced and easy drinking coffee and that pairs perfectly with cream or sugar. 
This coffee comes to us from a small group of farmers in Marcala, Honduras.  It is one of our newest relationships and we are really excited about the future of working with these producers.  Farmers contribute 100% of their annual crop to the mill.  It is then sorted for quality and lots are built based on quality levels.  The La Navi is one of their top lots.  This program is great for the producers because it means they get paid for all of their crop, not just the best coffee. 
In the Cup
This coffee is crushable.  It is a balanced, all-day drinker that is marked with notes of milk chocolate, caramel and apple.