Try 2 Steeped Coffee Bags
- Completely FREE!

No credit card required. Just fill out the form below: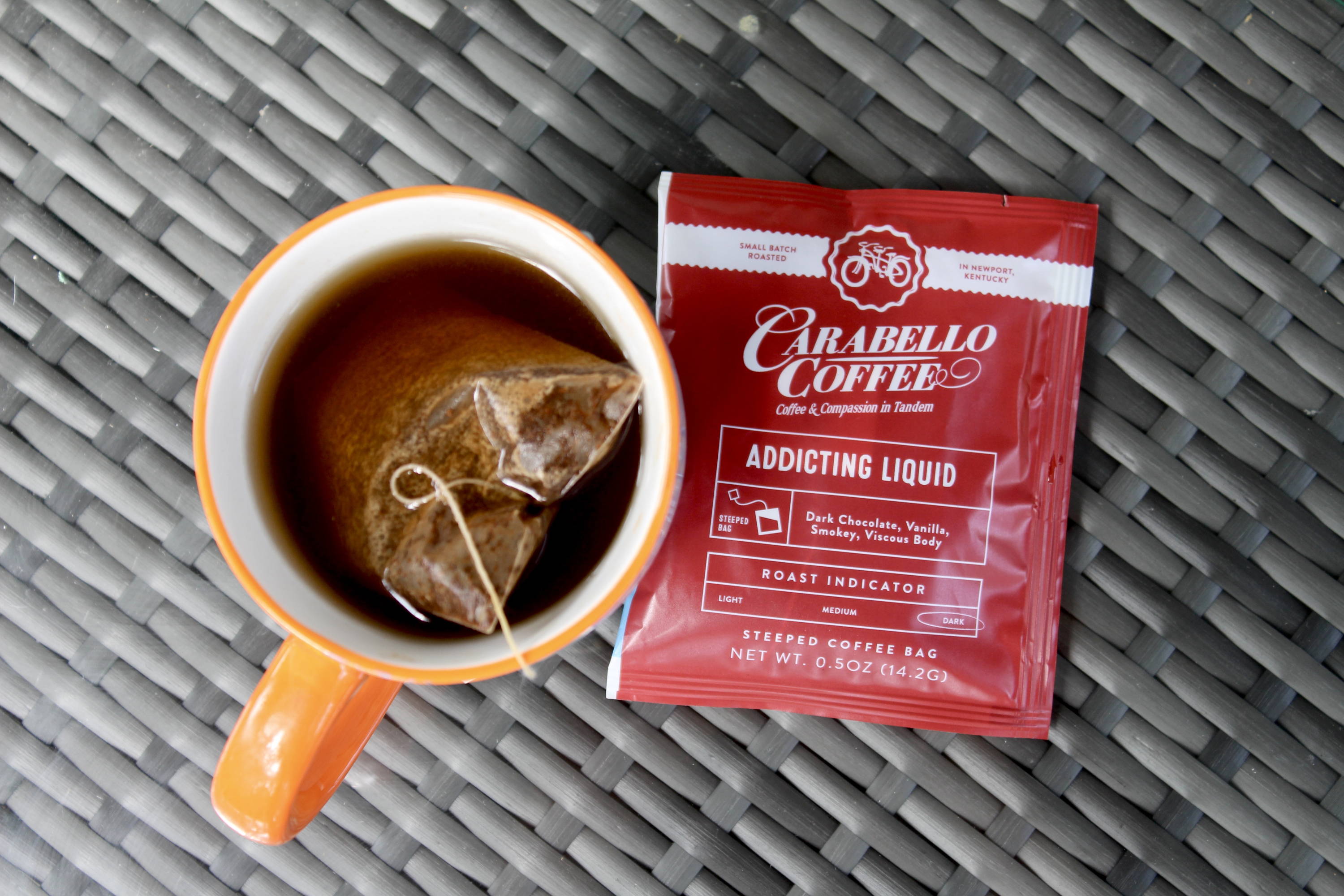 Ethically sourced, exceptional coffees

Take it wherever your adventure takes you

Packaging is compostable & renewable
COFFEE SHOP QUALITY — ANYWHERE
Anytime, anywhere, an artisan roasted specialty cup of coffee is ready for you to enjoy! Steeped Single-Serve Carabello Coffee Bags are pre-portioned, precision ground, filled with your favorite Carabello coffees, and nitro-seaded for freshness.
Unlike other quick coffee options, the quality of the coffee is uncompromised and the packaging is made from compostable and renewable materials, making every cup guilt-free and eco-friendly.
WHEREVER YOUR ADVENTURE TAKES YOU,

Don't Compromise on a Great Cup of Coffee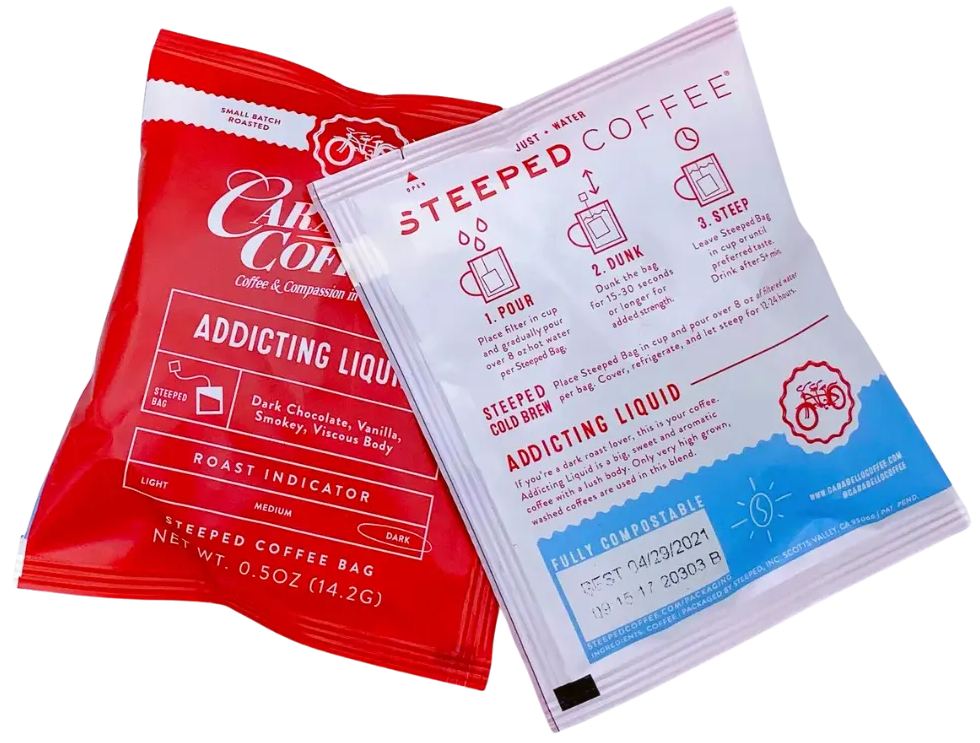 AVAILABLE IN TWO OF OUR BEST SELLERS
LIMITED TIME - SAVE A TOTAL OF 30% OFF A 10 PACK WITH CODE AT CHECKOUT: STEEPED15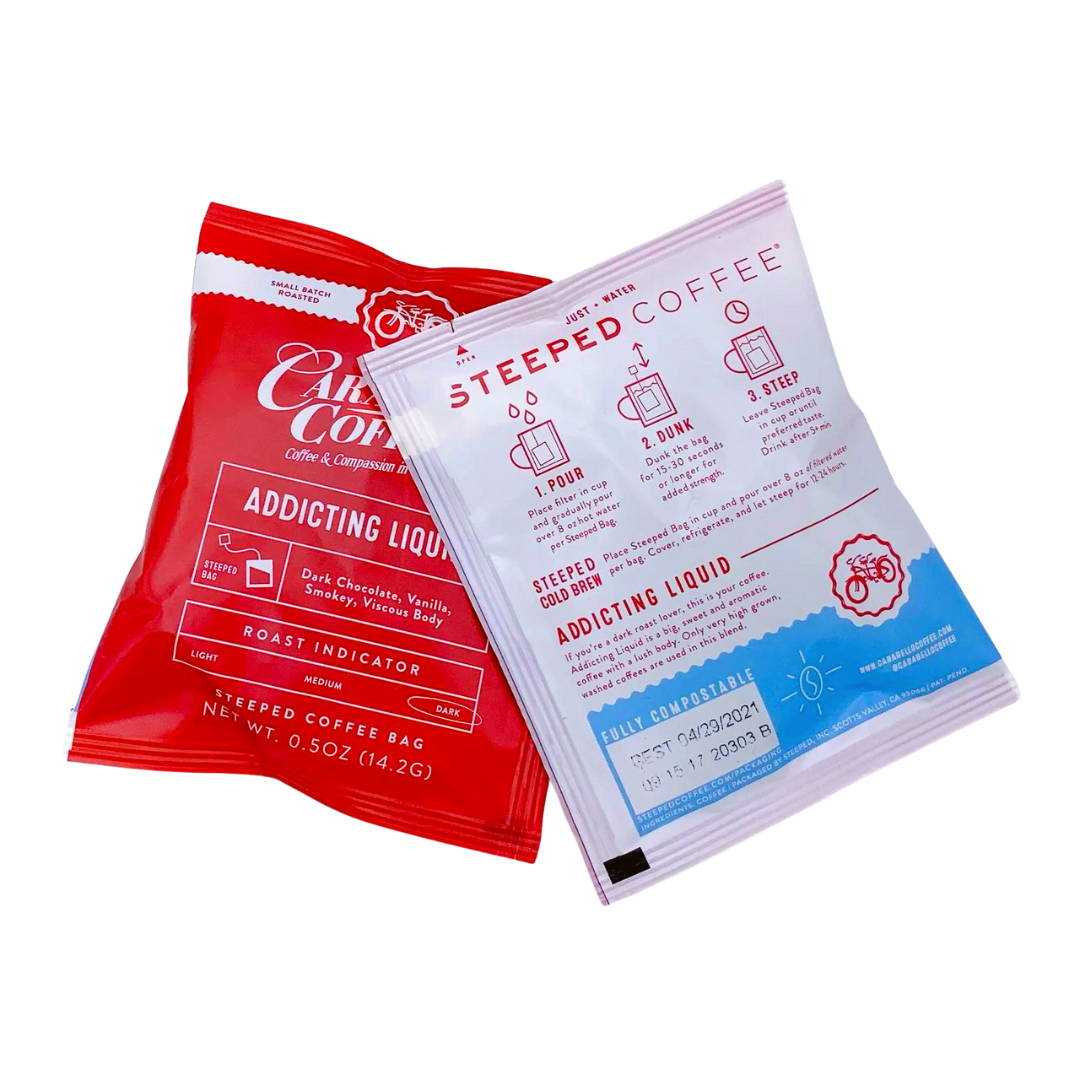 You already know the drill. It's just like making tea from a tea bag.
1. POUR - pour hot water over steeped bag
2. DUNK - dunk the bag for 15-30 seconds or longer for added strength
3. STEEP - leave Steeped Bag in cup until preferred taste — we suggest 7 minutes as the ideal submersion time.
How many ounces of coffee does one Steeped Bag make?
We recommend 8 oz per Steeped Bag. Feel free to add a little more or less water depending how strong you like your coffee.
Can I use the Steeped Bag to make cold brew?
Yes! It's delicious. Place Steeped Bag in cup and pour over 8 oz of filtered water per bag. Cover, refrigerate, and let steep for 12-24 hours. 
How long should the bag steep?
Leave Steeped bag in cup until preferred taste. We suggest 7 minutes as the ideal submersion time. For cold brew, let steep for 12-24 hours in refrigerator.